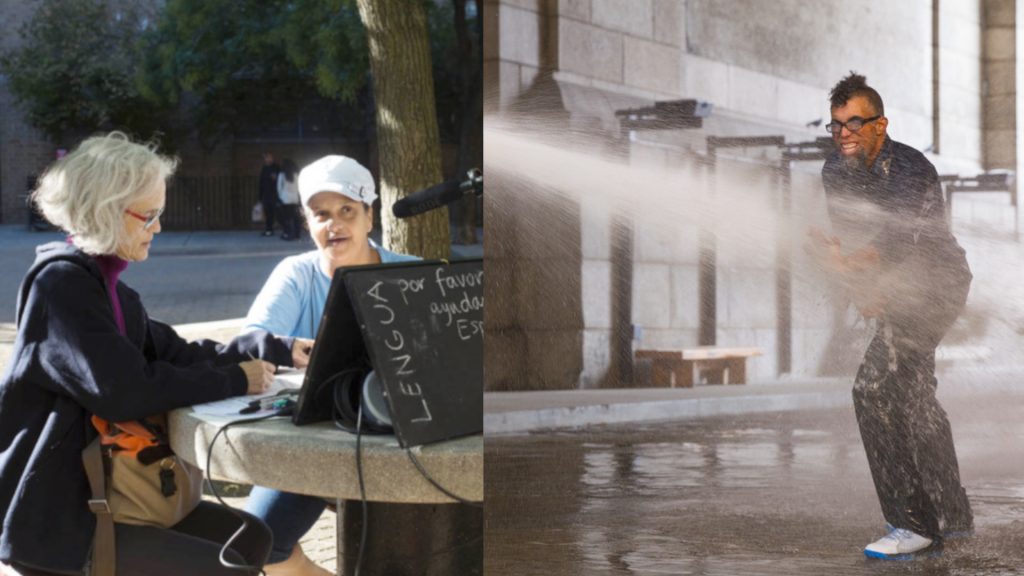 ​​In the Spring of 2019, the artists Dread Scott and Jenny Polak will be in residence in the Department of Art and will be participating in a symposium on February 26th, 2019 in their capacity as Run Run Shaw Distinguished Lecturers. Over a calendar of three months and supported by an Arts, Humanities, and Lettered Social Sciences Established Artist Grant, they will both engage in a series of events and talks on campus, will be undertaking a semester long research project that examines the relations between the history of slavery, migration, and art, and will be participating in one-on-one and small group critiques with students in the Art Department.
Dread Scott and Jenny Polak are both artists whose practices engage the intersections of politics, history, and power in the contemporary United States. Addressing a range of interrelated social issues related to race, colonialism, slavery, migration, and citizenship, their performances, events, poetic gestures, provocations, and projects challenge audiences and publics to critically engage the complex and often vexed political inheritances of American life.

Bringing Dread Scott and Jenny Polak to the Art Department as artists-in-residence will allow for their work to enrich the campus' intellectual and artistic communities and generate necessary political debate about issues that continue to play a central role in our society. Beyond the obvious aesthetic and political merits of their work, Dread Scott and Jenny Polak's time on campus will encourage and facilitate interdisciplinary forms of exchange between students and faculty, making significant and meaningful contributions to the form of political debate, exchange, and reflection and that are already taking place on campus.