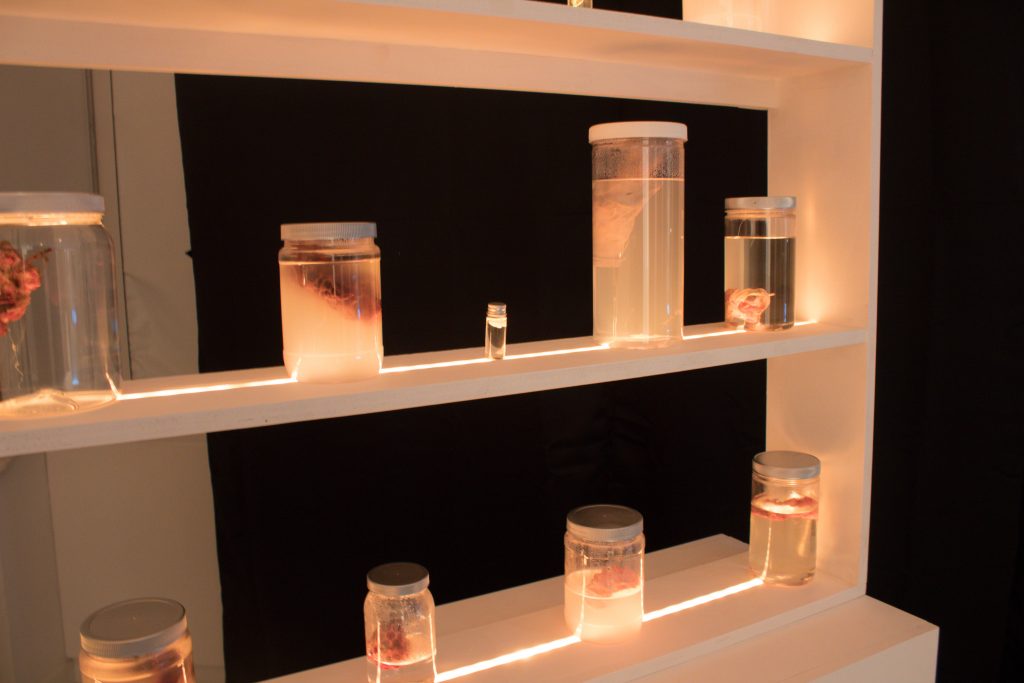 1. What inspires your work? How do these influences appear in your practice?
I have always been interested in film, science fiction, world building, and how narrative environments can ignite fresh understandings of ideas. My practice combines elements of immersive installation, fictive narratives and ecological research. By meshing fact and fiction, I am able to construct forums for an audience to experience complex systems such as water contamination and climate change.

2. What is the concept or symbolism of your work in the show? What thought process did you go through when making your work?
The installation in Fold Fragment Forum, was a culmination of my interest in fiction, belief systems, ecology and transhumanism. Order of the Primordial Biome combines elements of religious spaces with the aesthetics of laboratory science. By creating a fluidity between the two, the work ignites questions of how the public regards these institutional spaces in terms of their own livelihood, trust, and belief. I am particularly interested in the ethical concerns of these two systems regarding evolution and bioengineering.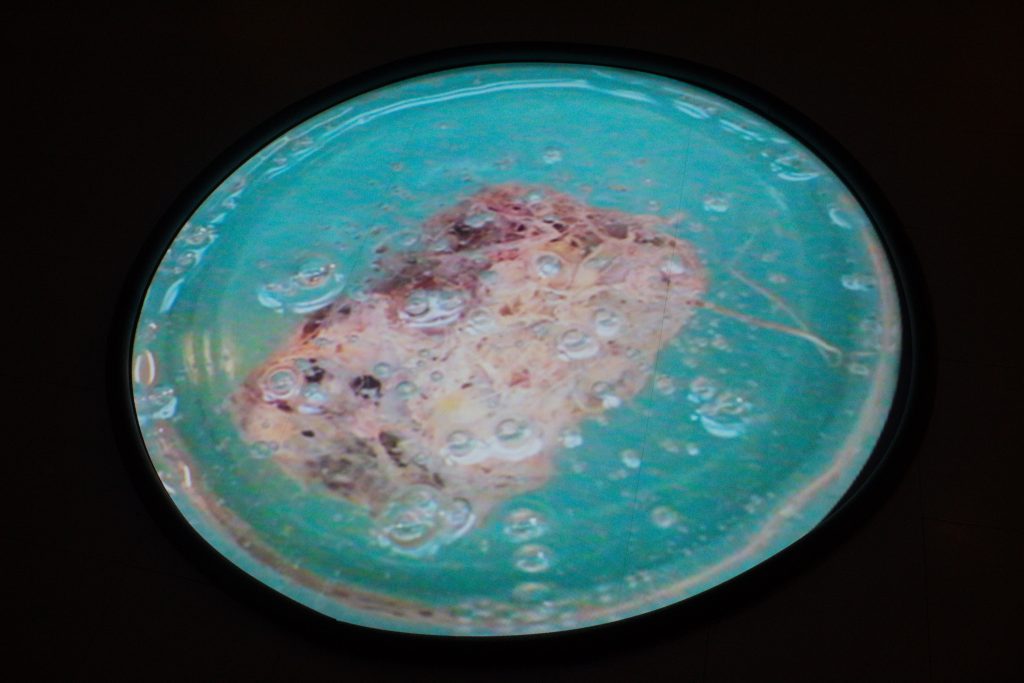 3. What was most challenging about installing your work in the Zuccaire gallery?
The biggest challenge for me was how to address the space of the gallery as an installation artist. There is a way of working in a small space installing a solo exhibition that does not apply in the space of a massive gallery where you are installing a group show. There are more variables to consider and it is harder to control the flow of traffic through the space.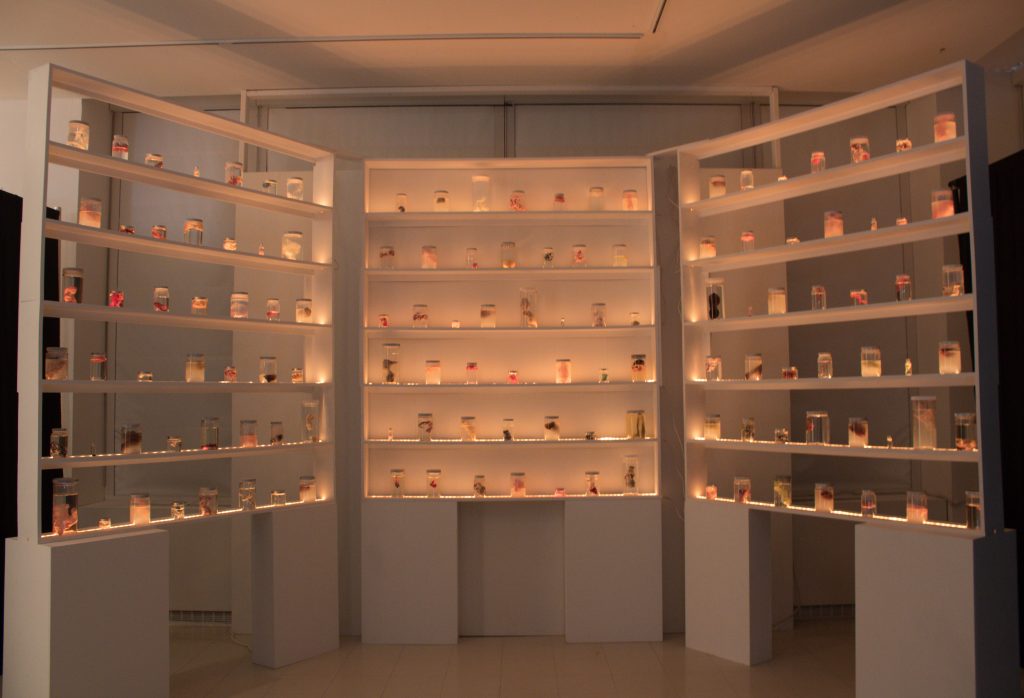 6. What interested you about our graduate program?
I was mostly interested in Stony Brook UNiversity's MFA program because of the opportunities presented for teaching undergrad courses. Also, the studios spaces are incredible and it is rare to find spaces that big in any other program. The three years at Stony Brook granted me time to focus, experiment, and mature my work. I would not have had that opportunity at a two year program.

7. How has the Stony Brook MFA program helped your practice and/or creative thinking to grow? Have you gained any personal growth as an artist or individual from our program?
This program has given me time, resources, and connections that have nurtured my artistic practice and helped me gain confidence as a professional. The studio space allowed me to work on a grander scale than I had in the past and the faculty that I have been working with are genuinely invested in my work and success. My advisor, Ian Alan Paul, has been beyond supportive of my work and professional development, stepping back and allowing me freedom to work through my conceptual development and formal choices, but also knowing when to be more involved when necessary.

8. Do have any plans for your next steps after graduation?
My next steps include presenting at a conference at UN/GREEN, the 4th Open Fields conference in the framework of the RIXC Art Science Festival 2019 at the Latvian National Museum of Art. I was also accepted at the Vermont Studio Center Residency.

9. Will you continue to create work like this in the future?
Yes. I am sure my work will evolve but the common thread will always remain.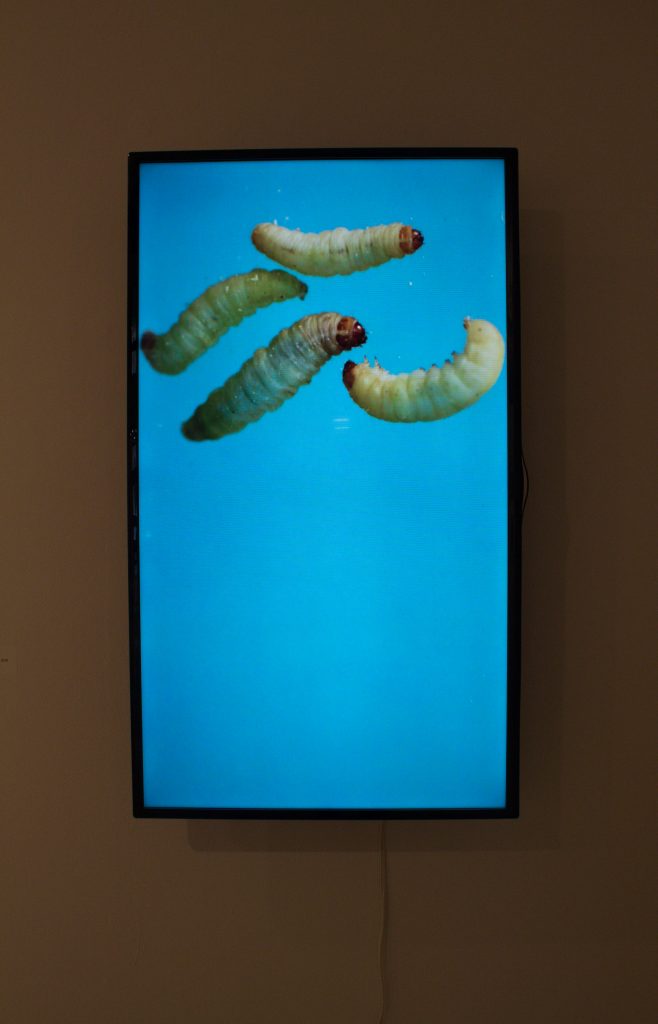 10. Do you have any encouragement or advice for your fellow and prospective/incoming MFA students?
As I conclude my graduate career, the best advice I can give is to make the work that feels right to you. Reach out to faculty and ask for feedback! Even if you are stuck, halfway through a work, or completely feel lost in your process, being in communication will help bring fresh perspective to your practice. Also, SBU is your community. Attend artist talks and lectures. Show up for your fellow MFAs. Support each other. Be involved. Reach out to other departments and utilize your resources while you can. Lastly, enjoy your experience! It goes so fast.
Learn more about our Graduate programs